Free White Paper
Bothersome Tinnitus Management
Audiologists are experts at providing assessment and management services to patients and their families with hearing loss and communication difficulties. However, they are sometimes reluctant at assuming a similar role for patients with bothersome tinnitus.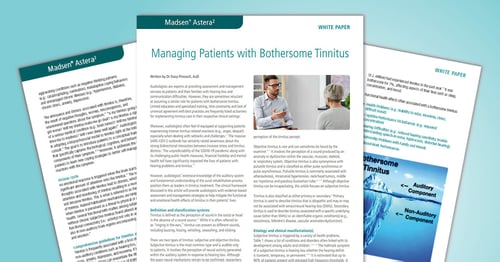 Limited education and specialized training, time constraints and lack of universal agreement with best practices are frequently listed as barriers for implementing tinnitus care in their respective clinical settings(1). In this white paper, we help overcome some of these barriers.
The white paper by Dany Pineault, AuD, covers:
Definition and classification systems
Etiology and clinical manifestations
Impact and prevalence of bothersome tinnitus
Comprehensive guidelines for tinnitus assessment
Evidence-based management strategies
1. Dawood, F., Khan, N. B., & Bagwandin, V. (2019). Management of adult patients with tinnitus: Preparedness, perspectives and practices of audiologists. The South African journal of communication disorders = Die Suid-Afrikaanse tydskrif vir Kommunikasieafwykings, 66(1),e1–e10.
Download today
Please fill out the form and receive your copy directly in your inbox.