Free guide
How to set up a Neurocritical Care Unit
Patients in the intensive care unit can frequently experience seizures, especially those suffering from traumatic brain injury (TBI). If undetected, seizures can be life-threatening and difficult to recognize clinically, especially non-convulsive seizures. In TBI patients, seizure activity can occur at later stages of injury, sometimes even more than seven days post-injury. To detect neurological deterioration and prevent secondary brain injury, it is critical to accurately monitor TBI patients over extended periods of time.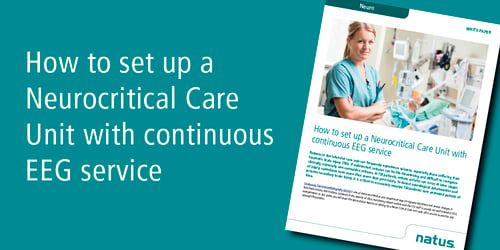 In this guide, you will learn about how:
To identify and minimize artifacts with video EEG monitoring
To detect seizures with real-time EEG reviews and quantitative EEG trends
To use mixed or transitional staffing models and training for non-specialists
To prioritize patients based on the highest risk of seizures or status epilepticus
The guide also present which pathologies that benefit from cEEG monitoring and gives recommendations on electrodes, channels, montages and recording duration.
Get started today
Please fill out the form to receive a copy of the guide.